Via Ron Speed Jr.:
Last year we were the first to announce and open our beautiful new lodge and operate on the lake.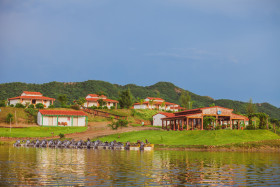 Many of our valuable clients were able to experience the insane numbers of bass with many boats averaging 150 – 200 bass per day! The best catch was 356 bass in one day by two anglers (same boat). We did have many other boats land up to 300+ in a day as well. Also, we had one client break the lake record when Scott Moody landed his giant of 12 lbs, 14 oz! That bass was 90% spawned out and still barely missed weighing 13 lbs!
It was a strange year in terms of weather as we saw constant rain from January until late March (normally it's dry during those months)…which kept the lake on the rise most of the time and the larger bass scattered and mostly in 25+ feet of water. It wasn't until early to mid-April that we really started to see the bass in the 6 pound range and bigger moving up.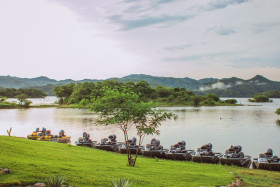 Then came mid-May and warmer temperatures sending the larger bass to their normal summertime pattern on humps, shelves and ledges in 18′ – 30′. All in all it was an outstanding season with incredible action on numbers of 2 – 4 lbs bass and in the latter part of the season even much larger bass. Now with the rainy season done and the lake totally full, we should start seeing a lot of bass in shallow water to gorge themselves on the shad that are feeding on all the new algae growing on the fresh submerged vegetation. The bass have another year's growth and I expect to see a nice jump in the overall size of the bass this year!
Our Picachos Bass Lodge is the largest and most beautiful facility on the lake with the easiest access from Mazatlan. Prior to the start of the rainy season in June, we began to plant grass and palm trees around the lodge. After three months of steady rainfall and warm climate, the grass looks as though it's been there for years…it's absolutely beautiful! (see photos) Right now our boats are approximately 30′ from the restaurant! It doesn't get any more "on the water" than that! We're anticipating another huge year on reservations as the calendar is filling up fast! If you want to come experience what you've been missing out on, now is the time to call. If you've already experienced it and ready to return, you better hurry. Seriously, these dates are going fast!
http://www.drewdanieladventures.com/wp-content/uploads/2016/08/DD-Color-219x156.png
0
0
Webmaster
http://www.drewdanieladventures.com/wp-content/uploads/2016/08/DD-Color-219x156.png
Webmaster
2015-10-13 12:32:59
2015-10-12 14:35:13
Lake Picachos is looking great for 2015 - 2016 season