Via Ron Speed Jr.:
Yes…the beautiful and famous Lake Comedero! In the event you missed our April update, we are reopening fabulous Lake Comedero in December! We believe Comedero to still be the best trophy bass lake in the world today! We had not fished Comedero for the past 6 1/2 years…well, not until conducting "checkout" trips there in November 13′, January 15′ and March 15'….all three checkout trips were OUTSTANDING! Lots of big bass and monsters lost as well! We determined after the two checkout trips earlier this year, that the lake was ready to be fished again! Remember, this is for the trophy bass enthusiasts ONLY! Although we did have some very good numbers during most days of our checkout trips, I still believe the main reason one should fish Comedero is for the opportunity to catch big bass! If you want to give yourself the best chance to catch numbers and big bass, then I recommend a combo package of Lake Picachos and Lake Comedero in the same trip! Same with El Salto.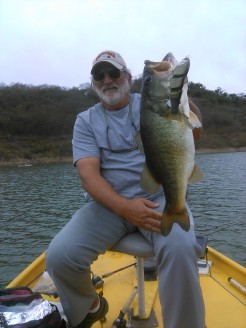 We have clients who have booked all three lakes in the same trip for the upcoming season! Comedero space has been going like wildfire since we announced the reopening last April! Many of you have been waiting years for us to reopen and it's showed in our reservations since April. There are still "some" weeks available but remember, we will only be open from Dec to March…the four months we believe gives the best chance at trophy bass! You should call soon if you do not want to miss out! Comedero is 3 x larger in size than El Salto and Picachos and surrounded by the most beautiful part of the Sierra Madre Mountain range. The scenery and view is absolutely breathtaking. Oh and…the fishing can be pretty darn good too!
http://www.drewdanieladventures.com/wp-content/uploads/2016/08/DD-Color-219x156.png
0
0
Webmaster
http://www.drewdanieladventures.com/wp-content/uploads/2016/08/DD-Color-219x156.png
Webmaster
2015-10-15 14:51:22
2015-10-12 14:56:40
Lake Comedero will be open for fishing this season!