Bass Fishing Trips of a Lifetime With Drew Daniel Adventures
Providing Exclusive Trips to Mexico and Brazil
Great Spring Break Discounts for all father/mother/son/daughter combos!! Book your deeply discounted trip for you and your youth age 21 and younger! Get more information on this deal here.
MEXICO BASS FISHING
Lake Picachos is Mexico's newest and hottest bass lake! A real bass factory!!!
Lake Picachos is located approximately 30 miles northeast of the famous beach resort city of Mazatlán. The drive from the Mazatlán Airport to lake is just under 1 hour and the drive from the lake to 5-star El Cid Resorts, the first class hotel where our anglers stay their last night, is only a short 45 minutes drive. This lake is by far the easiest and most accessible of all the lakes we've promoted and operated on…ever! The Picachos Dam construction started in 2006 on the Presidio River, which is the main river that feeds into Lake Picachos. Construction of the dam was completed in 2009.
Learn More
Mexico's Lake El Salto is the most famous bass fishing lake in the world due to the thousands of huge bass caught and released back into the lake by Americans. We built the very first lodge on the water at El Salto thinking we would only get about 5 years of great bass fishing. Almost 15 years later, El Salto is actually better today than when we first opened up our lodge!
Learn More
Brazil Peacock Bass Fishing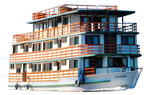 In Brazil, our clients live aboard the largest, newest, and most comfortable "floating hotel" in all the Amazon Basin. It's known as the fantastic Otter. Learn More
Deep Sea Fishing
More information to come on this. We have actually offered this option for several years without publicizing it. Contact us for details
BASSIN' BONANZA OPENS IN MEXICO
Every few years seem to bring rumors of a hot new bass lake with awesome action. More often than not the rumors soon prove to be true going back to Lake Guerrero in the early 1970s to the emergence of lakes El Salto and Comedero in more recent years. Such is the case once again with the recent opening of Lake Picachos near Mazatlan on Mexico's west coast. – Buddy Gough (Renowned Outfitter Journalist)